Previously Published to Benzinga: The following post was written and/or published as a collaboration between Benzinga's in-house sponsored content team and a financial partner of Benzinga.
A few years ago, it seemed almost daily that the news reported an exploded device. A company was scrutinized for not doing its due diligence before releasing such a dangerous product to the public. Hoverboards, smartphones and laptops caught on fire, burning people in their sleep, or unexpectedly catching them off guard.
In most cases, the explosion wasn't due to a manufacturing error. The cause was most often from shrinking device size, which spurred a race to have the smallest, most effective device on the market. Some devices got smaller, but cooling became an even larger challenge across many of those markets.
KULR Technology Group (NASDAQ: KULR) NASA-backed technologies in thermal management and battery storage solutions have proven to be a solution — not just on Earth but also in outer space — providing astronauts with a means to better do their jobs while keeping tabs on those they love back home.
Benzinga met with Michael Mo, CEO of the KULR Technology Group, at the Global Small Cap Conference, where he discussed the company itself and why it is an innovative tech stock to show interest.
Cosigned by NASA
Since its beginnings, KULR has been developing next-generation carbon-fiber-based thermal management solutions for space and defense applications. It continues to strive toward fulfilling a $24 billion-dollar thermal management systems market with the power of NASA and the U.S. Department of Defense standing behind it.
Poised to discover new solutions, KULR works to solve major challenges in the speed and cooling of batteries and the storage of potentially volatile energy solutions.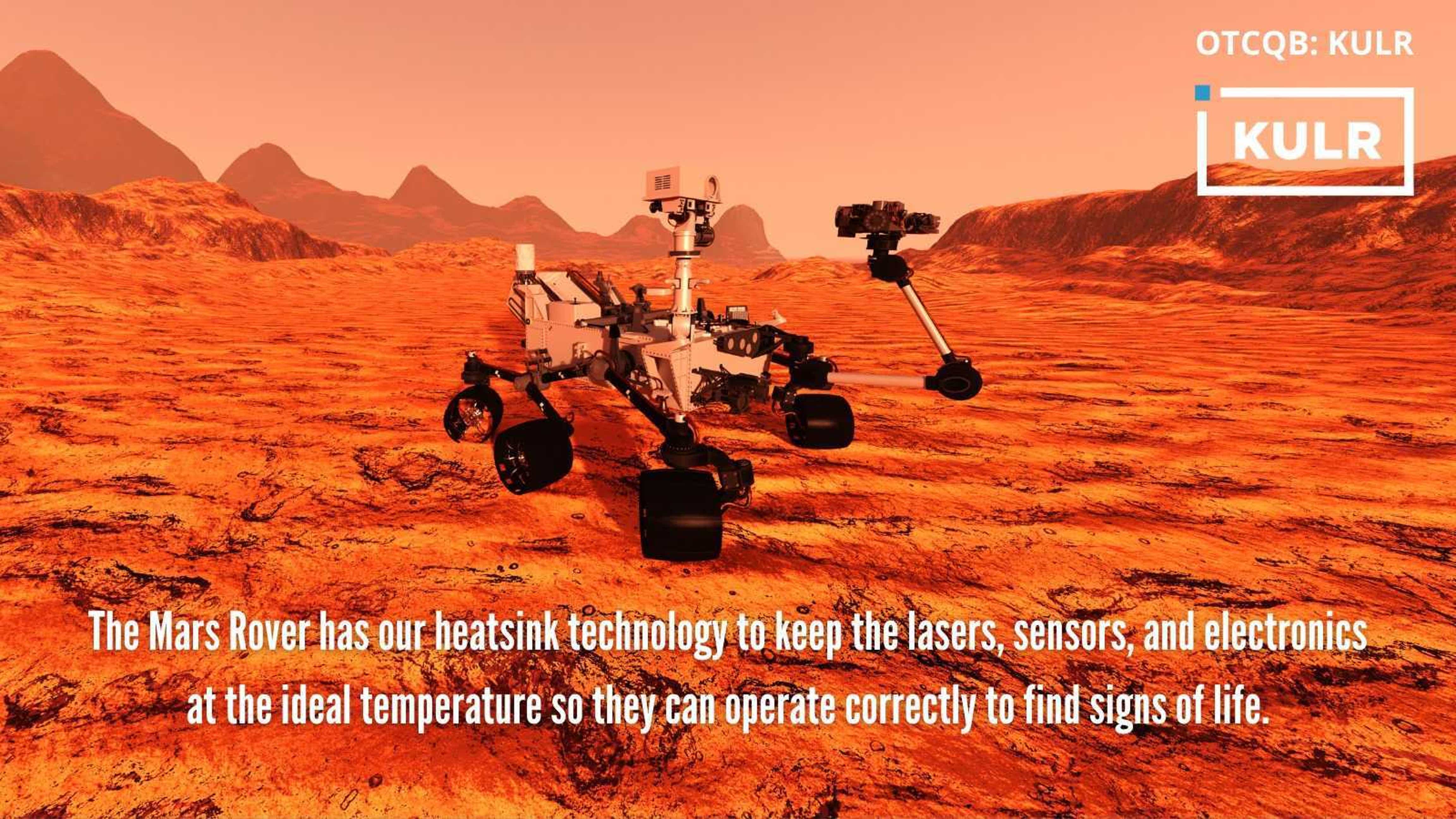 The company has been a major part of game-changing innovations with members of the organization dedicating more than 30 years of their careers to the development of safer, more efficient battery-powered devices.
Successfully producing proprietary, space-proven technologies, KULR's solutions make electric vehicles (EVs) and industrial battery mechanics cooler, lighter and safer for a wide range of applications.
KULR's leading thermal management products are used and trusted by NASA and its International Space Station (ISS) in conjunction with ARA thermal capacitor technologies used on the 2020 Mars Rover. The ARA is a carbon fiber-infused heat sink, using phase charge material (PCM) to absorb or provide heat while significantly cooling devices.

Proprietary thermal runaway propagation (TRP) systems in lithium-ion battery packs keep incidents isolated and protect neighboring cells from further explosion. On the other end of the spectrum, passive propagation resistant (PPR) solutions in small satellite batteries (CubeSat) have no TRP between cells. They protect groups of batteries in a single, enclosed battery pack.
In addition to its partnerships with NASA, the company is also used by firms such as:
Lockheed Martin Corporation (NYSE: LMT)
Airbus (OTCPK: EADSY)
Raytheon Technologies Group (NYSE: RTX)
Leidos Holdings Inc (NYSE: LDOS)
Volta Energy Technologies
Drako Motors
Global lithium-ion battery markets are expected to grow by 17% compound annual growth rate (CAGR) to $100 billion by 2024.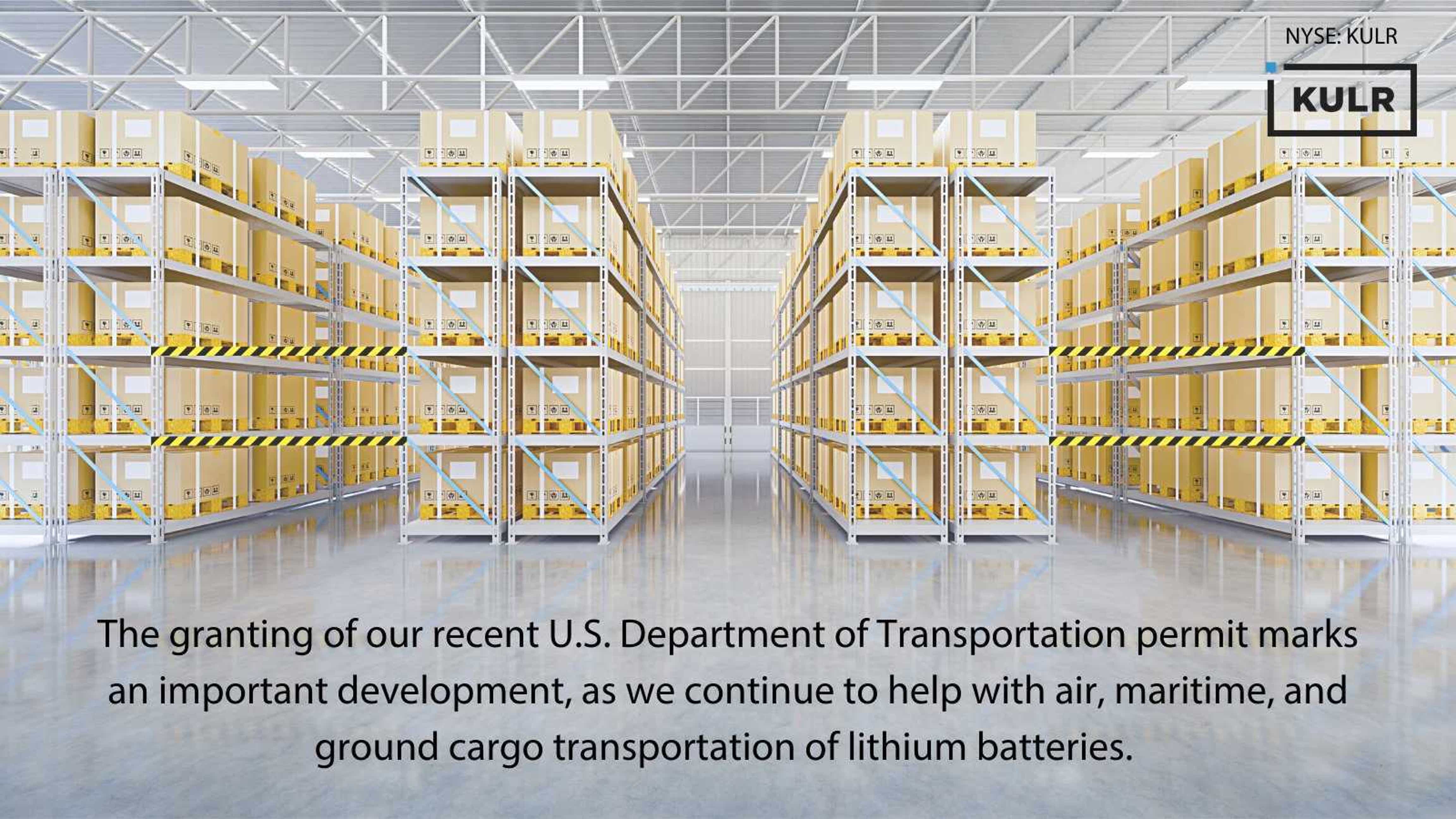 Through collaboration and continued innovation, KULR seeks to advance its relationships with organizations such as the U.S. Air Force, NASA, and the U.S. Department of Energy to create new and optimized products within the battery storage and 5G cloud-computing sector.
The company also wants to work more frequently with others to set safety standards for electric and battery-operated devices. This mission includes working with the Federal Aviation Administration (FAA) and the U.S. Department of Transportation to create future regulatory roadmaps for EVs and other devices carried onto planes and motor vehicles.
The Next Phase in Evolution
As far as the competitive landscape, Mo believes that continuously developing cutting-edge technologies that apply to new markets is a challenge in and of its own. It's what keeps KULR on its feet, organically solving problems.
Breaking into multi-billion markets isn't the problem. The challenges it faces, however, are.
Because lithium-ion battery fire incidents involving hoverboards, smartphones and EVs are a serious public safety concern, there's been a surge in demand for essential improvements to battery safety technologies, smart batteries and the thermal management solutions that power them.
That's why KULR's space-proven battery technology is such a critical platform play for multiple multibillion-dollar markets.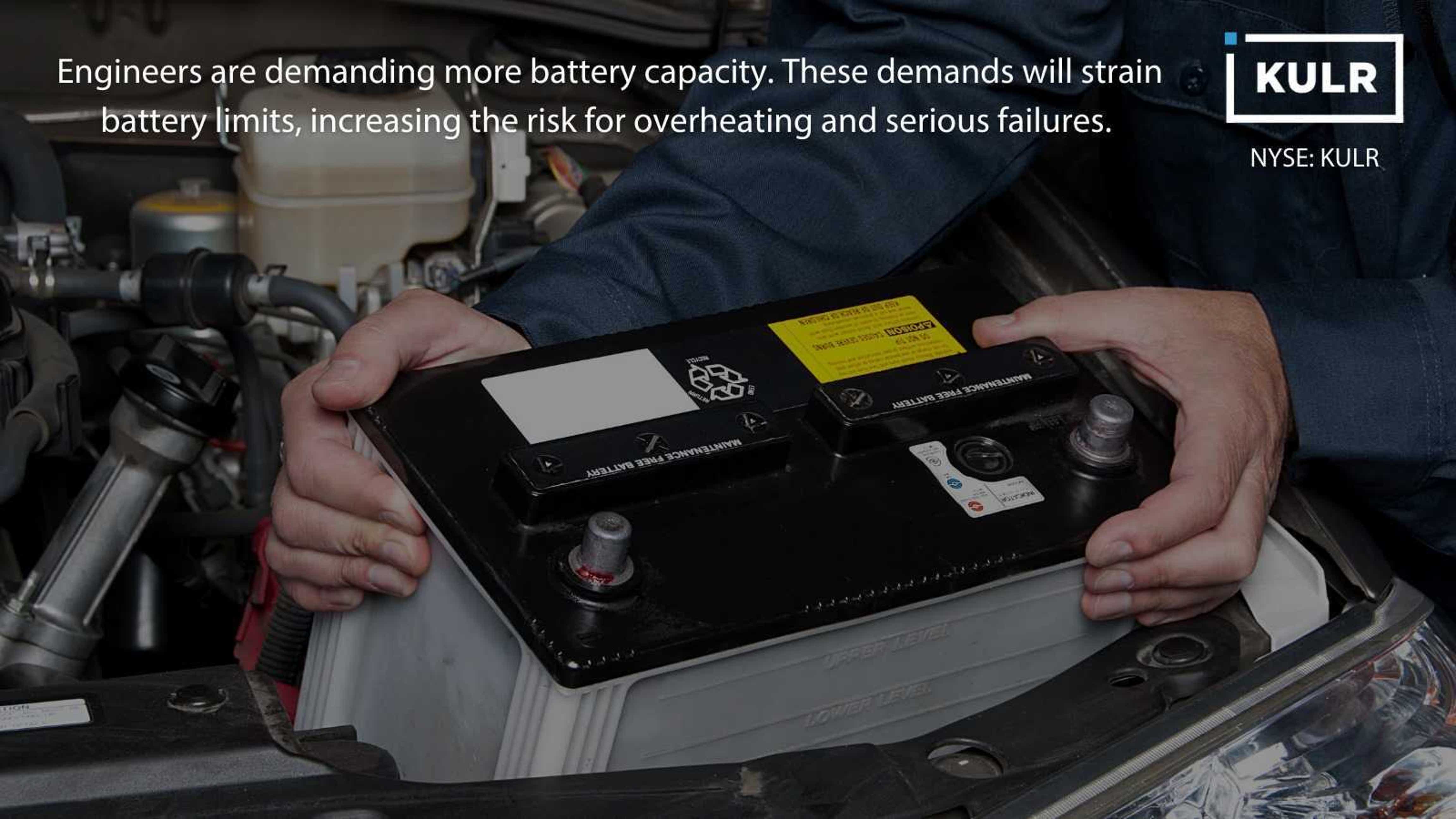 Many of the problems the company will solve simply don't exist yet. It's about serving customer-specific needs, driving internal development, and taking a holistic system approach to solving new problems. In fact, the company's biggest competition is with time itself.
KULR's business model has dramatically evolved from a component supplier to a custom product provider. But as time goes on, the company would like to be known for more than its engineering, design, and testing services. As it continues to move more into the smart battery market, KULR plans to leverage its thermal design technologies and expertise to create market-leading products that will capture more value for its shareholders.
Most engagements will still begin with engineering, design, and testing-related services. But once a custom solution has materialized, KULR will offer these products for sale or license intellectual properties to its high-volume clientele.
This technique allows customers more flexibility for integration and the ability to scale newly created solutions within existing supply chains. Because these solutions are scalable, they come at a lower cost for everyone.
Aiming to Make History
KULR would like to see carbon-fiber technologies play a vital role in the future of batteries. Today, it is the leading provider of total systems solutions for the lithium-ion battery, mitigating the effects of thermal runaway propagation through an entire line of differentiated technologies. Its evolution has led the company to become a developer, manufacturer, and exclusive licensor of products for government agencies in the United States.
Company leaders expect KULR's extensive and robust patent portfolio to expand as the company begins shifting focus to clean energy and the decarbonization of the atmosphere. It wants to create batteries that are smarter and to develop a new battery architecture with faster charging, a higher energy density and extreme cooling.
A Few New Projects
In 2022 and 2023, the company expects to ramp up product volume for innovative, high-performance thermal management solutions for today's emerging markets in order to satisfy the increased cooling demands of next-generation electronics and battery systems.
As wearables and Internet of Things (IoT) technologies continue using cloud computing at the core of their design, batteries will need to get faster as devices get even smaller — especially when connected to a much larger network.
With that said, here are a few new products KULR has been working on.
The Smart Drone Battery
KULR recently released high-capacity lithium battery packs for the commercial drone market. Not only are these packs built using carbon-based fiber materials, thermal management, and battery safety technologies, but they incorporate features that would allow the packs to:
Monitor battery state at the cell and pack level
View visible warning and battery capacity indicators
Balance charge control and anti-spark connectors
Obtain maintenance of battery condition history via CAN/SMBus communication
Mitigate thermal runaway and battery fires
Marshall Space Flight Center
KULR has struck a dual-use technology development agreement for 3D-printed battery systems used within manned and robotic space applications.

EV Motorsports and Global Racing Applications
In March, KULR partnered with Andretti Technologies (ATEC) to implement thermal management systems into EV motorsports. According to Andretti Autosports, "The aim of the KULR and Andretti Technologies partnership is a transfer of technical knowledge from aerospace to the racetrack through ATEC-affiliated programs. ATEC plans to implement new cooling technology, battery cell architecture and testing methodologies for its high performance and high-power applications within the global EV Motorsports marketplace."
KULR was also named the official thermal management and battery safety technology partner of the Andretti United Extreme Global Racing Enterprise led by Michael Andretti. Together, KULR and Andretti are co-developing and co-marketing high-performance management and battery safety technologies for the World of Motorsports. Later, the team will transition integrations into mass EV applications and parts.
"The alliance with KULR provides ATEC additional technical resources to accelerate engineering and scale battery system development in a sustainable way," says Roger Griffiths, CTO of Andretti Technologies, "while also allowing us access to KULR's hardware expertise to help compete with the largest OEMs in the most competitive motorsport races on the planet."
Why Invest?
The company had been trading on the OTC Markets, under the ticker "KULR," since 2018 but has recently up listed onto the New York Stock Exchange American (NYSE AMERICAN, formerly AMEX). This recharacterization comes after taking aggressive steps towards completing an $8 million registered direct offering back in December 2020.
At the time of this story, its stock price has almost doubled.
For KULR, 2020 ended with an almost 300% year-over-year (YoY) revenue growth in Q4 and continued through Q1 with a 400% YoY growth. To make this happen, the company made significant investments in all areas of business, including sales, operations, marketing and research and development. It has also allowed the organization to upscale its operations as it begins shifting the services offered and the companies it works with.
With a robust and growing portfolio, the company is quickly expanding into new markets through joint ventures, exclusive licensing opportunities and strategic partnerships. KULR's new facility also lends to such efficiency with size allowing up to 4 times more production than previous facilities.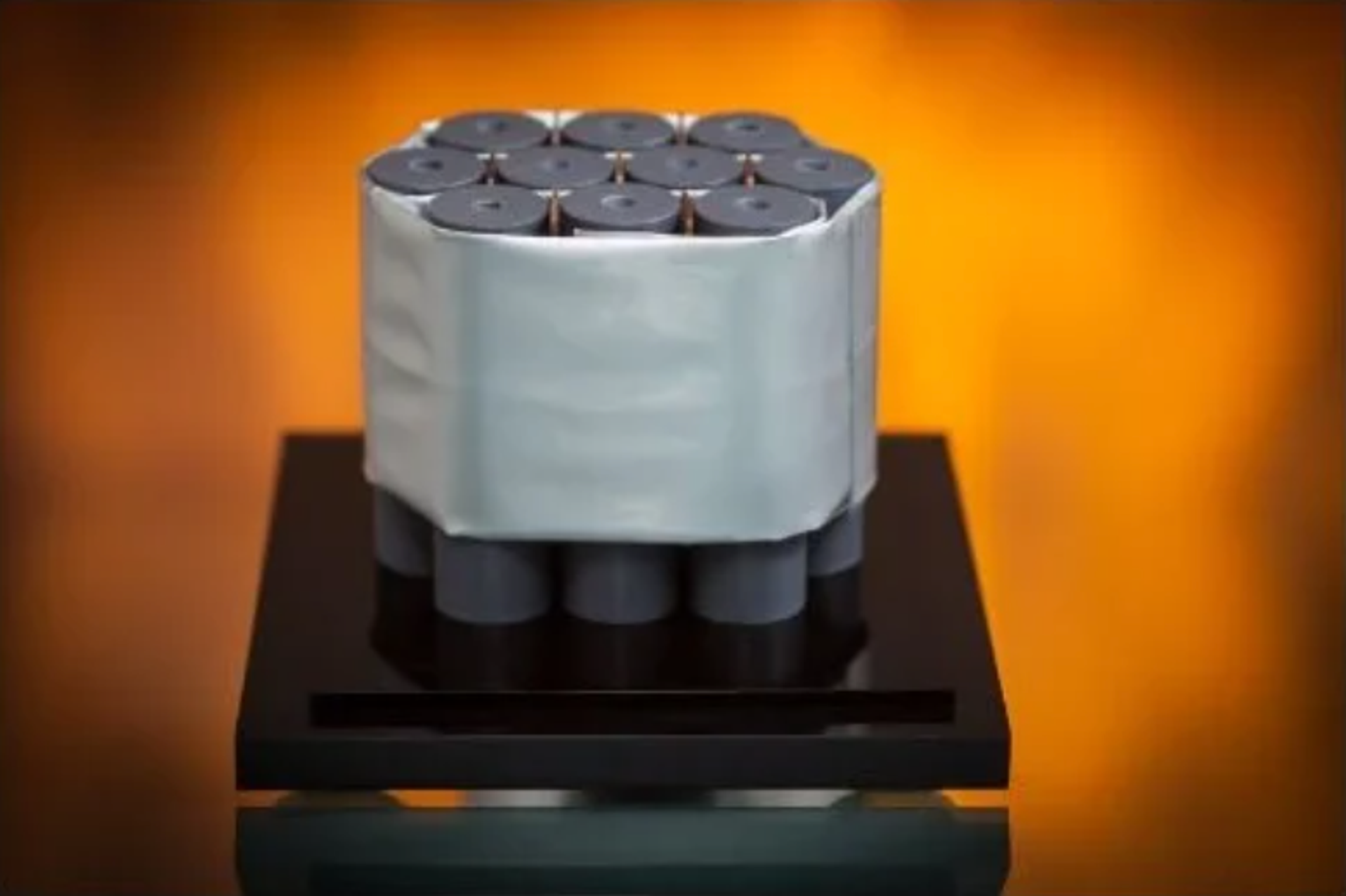 KULR's HYDRA Thermal Runaway Shield, for example, is being used by the ISS to protect battery packs and storage containers. Heat is absorbed, and cells are shielded from entering thermal runaway propagation. This technology keeps the Microsoft Surface Pro and laptop batteries from catching on fire, exploding, or potentially destroying the ISS.
KULR also teamed up with NASA in 2018, as the exclusive licensee and commercialization partner of the NASA-developed Lyra testing tool, originally created for space-only applications. This tool is used to identify and study failure modes and safety issues that may arise within battery packs. This technology is currently being used in EVs, electric aviation and energy storage solutions.
Other reasons someone may want to invest in KULR is that the company:
Is a global electronics and battery manufacturer
Works with a leading supplier of key electronic components, used in smartphones and miniature devices, to provide cooling solutions
Holds exclusive licensing for Internal Short Circuit (ISC)-compliant testing technologies

To learn more about battery safety, storage, and smart battery solutions, please visit https://kulrtechnology.com.
The preceding post was written and/or published as a collaboration between Benzinga's in-house sponsored content team and a financial partner of Benzinga. Although the piece is not and should not be construed as editorial content, the sponsored content team works to ensure that any and all information contained within is true and accurate to the best of their knowledge and research. This content is for informational purposes only and not intended to be investing advice.
The author of this article owns stock in one or more of the companies listed above.