Previously published to Benzinga: The following post was written and/or published as a collaboration between Benzinga's in-house sponsored content team and a financial partner of Benzinga.
The Fun Utility Vehicle (FUV) by Arcimoto bridges the gap between the bike and the electric car and is essentially a high-tech, supercharged version of the rickshaw found in some of the most crowded countries around the world. It is designed to fight pollution, drive on small roads and navigate densely crowded populations. And most importantly, this highway-ready, all-weather electric vehicle is "designed to rock," according to Arcimoto founder Mark Frohnmayer. "It brings smiles to all who get to experience it."
Benzinga met with Arcimoto (NASDAQ: FUV), at the Global Small Cap Conference in May, where innovative brands came together in the name of technology to tell investors just what makes their companies worth a buy.
Arcimoto Founder and CEO Mark Frohnmayer spoke out against the massive inefficiency and congestion on our roadways in cities around the world, far and wide.
Because Simply Reinventing the Wheel Would be Crazy
Mark Frohnmayer, founder and CEO of Arcimoto, calls on the world to rethink the old mobility mindset of buying just one vehicle that purportedly does everything, not just daily drives but also cross-country road trips and offroad adventures.
Instead, he recommends we shift our mindset toward the true pattern of everyday driving, "all those little trips" that make up real life vehicle usage. Consider that roughly 90 percent of all trips have only 1 or two people in the vehicle; the average American drives only 30 miles a day; the median trip distance is only 3 to 5 miles. The average driver isn't towing jumbo jets or summiting Mt. Everest, as the advertisements would have us believe. They are commuting to work, going to school, getting groceries, going out to eat, meeting with friends, hitting the gym. Frohnmayer and Arcimoto set out to create "rightsized," ultra-efficient electric vehicles the average person could afford, "that also happens to be insanely fun to drive."
When it comes to transforming mobility, Frohnmayer believes that "electrification is essential but not sufficient," and that smaller vehicles have the potential to free up valuable space in our cities, especially as we shift to autonomous vehicles. Self driving or not, cities will still suffer when we use large trucks or SUVs to ride alone.
"I think we are in an interesting time in EV market growth," Frohnmayer says. "I would encourage folks to think about how they get around. Next time you jump in the car by yourself, think about all the empty seats. It's crazy that we all use these giant machines all by ourselves — and maybe with one other person — for all the small trips that make up about 80 percent of the total miles driven today."
Back in 2007, Frohmayer was looking for a quality, affordable electric vehicle. He was tired of seeing big, multi-ton extraction rigs, large-body vehicles and oversized cars used for short trips. He hated seeing more and more land paved over, as half the city was already covered in asphalt. He took notice of traffic jams, pollution, and rampant fires around the world. And he decided to do something about it, and to create a new mode of transportation that didn't yet exist.
"The Everyday Electric"
Frohnmayer came up with a solution, which started a new platform for mobility.
"I wanted a light-footprint electric vehicle, affordable, fun and dialed for every day," he says. "We are a public company with a public mission. People who help people." With a name that means "Future I Drive," Arcimoto serves to bridge the divide between cars and how we end up using them within time.
According to Frohnmayer, we're sacrificing more than 50 percent of our urban landscape to asphalt and an overcapacity of cars — electric or not. It leads to congestion on the road and in parking lots, as well as an excess of emissions across the planet. He also feels that to meet our goals for turning around the climate crisis, we need to realize that it's going to take more than just the electrification of traditional vehicles to solve these problems. In fact, he calls this "just electrifying old ideas."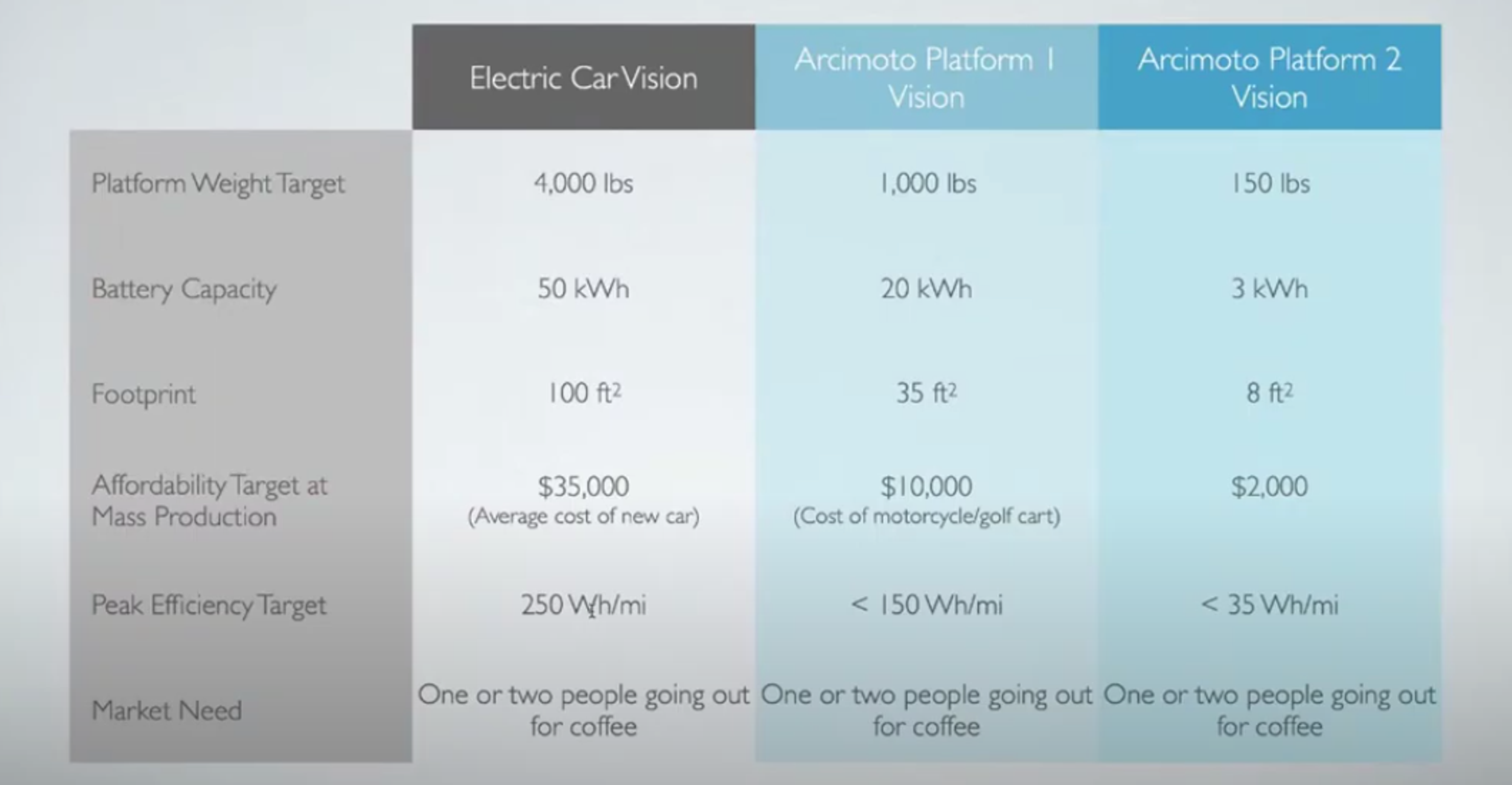 Frohnmayer points out a few problems in the current EV market to further make this argument:
Energy and extraction costs are too high and materials are scarce.
Between 80% and 85% of ride-sharing consists of just 1 occupant (for a 5 to 7 passenger vehicle); making the use of a 4,000 lb. robotaxi is redundant.
There needs to be a 4 to 40 times materials reduction, even in electric cars, and products need to become 5 times more efficient.
The production of Arcimoto's flagship product, the FUV, officially began in 2019. Frohnmayer describes its battery as "burly" with a "powertrain that sips electrons." The vehicle has dual electric motors with front-wheel drive.
Currently, the car has a 102-mile range, topping 173.7 MPGe on just one charge. While it's not exactly ready for a high-speed chase, the FUV reaches a top speed of 75 mph, going from 0 to 75 in just a few seconds. The vehicles are lightweight, efficient and able to be parked in spaces that most other vehicles can't.
These vehicles are for everyday travel, delivery, off-road activities and even first response.
They are sold direct with prices starting at $17,900. Pre-orders are also available, as new models will be released in the near future. The company would like to make them more affordable in time, with future targets set for $10,000. They're delivered directly to each customer. Customers can personalize their FUVs, based on color, shape, style and feature.
There's a Vehicle for Everyone… and Even More to Follow
The Roadster is the company's premier product. The company has slated it as a "pure onroad fun machine." Deliverators are more spacious vehicles that can quickly and easily be parked in the most convenient areas. To the Rapid Responder, this feature is especially important, especially when saving lives and hauling supplies.
They're fast, lightweight and can be parked anywhere.
Everything from the processing of raw materials to machining and final assembly is done in-house at the Arcimoto Manufacturing Plant (AMP) factory in Oregon. All welding, forming and cutting of parts is done there as well. This practice allows the company to maintain cost savings for its customers while ensuring proper maintenance and sustainability.
The company's rental model serves as a marketing tool to get drivers into seats. Curiosity leads drivers to rental centers, where interest transforms into an immediate need. Technically, it's brand awareness at its finest. With fewer dollars spent on marketing, more time can be spent on the customer experience. Experience begets loyalty, and loyalty yields more awareness, as friends tell a friend and word of mouth produces trends.
With thousands of pre-orders pending, Arcimoto is definitely poised for growth. Earlier this year, it purchased a new facility that would expand its manufacturing footprint five-fold.
On the Road to Reverse Climate Change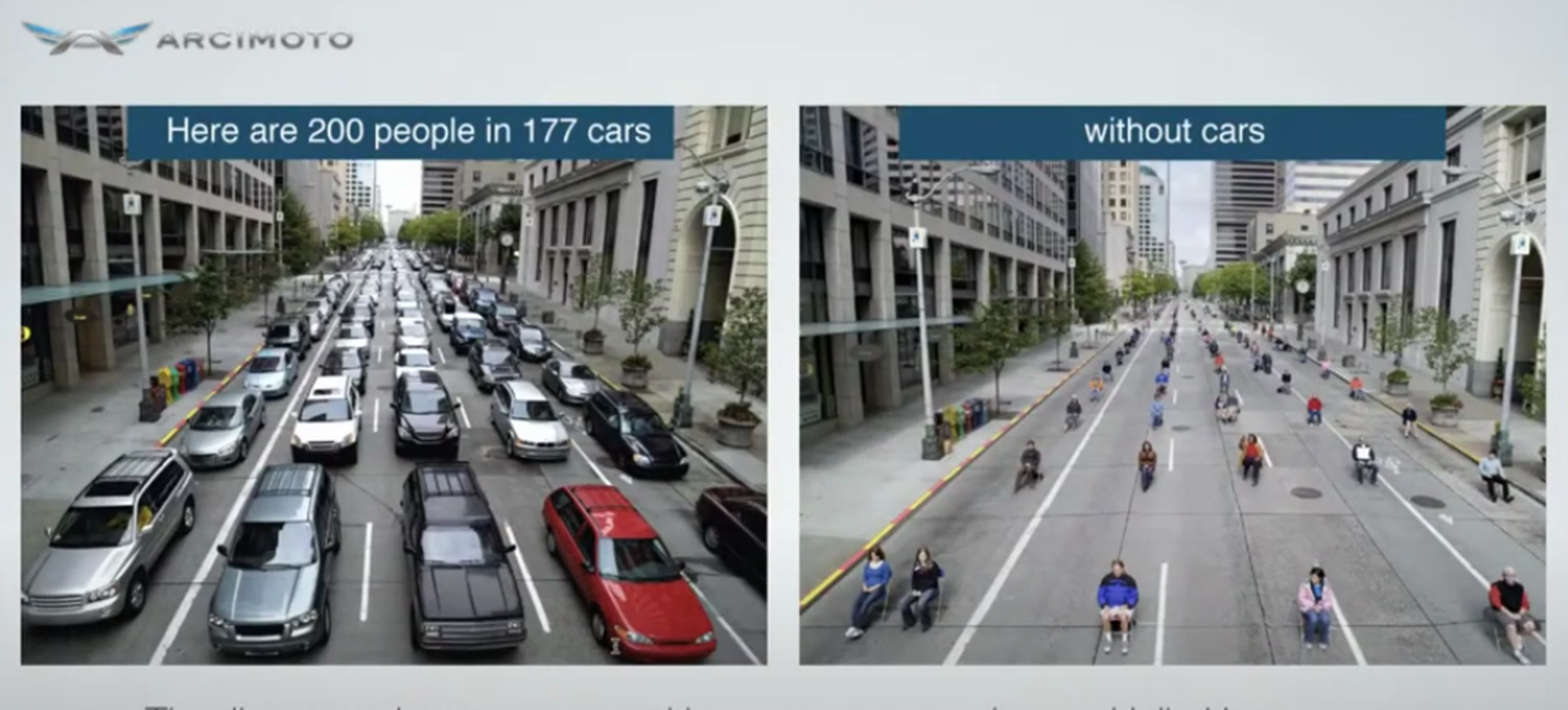 Currently, India contributes 7% of the world's global emissions but has the second-highest population on earth, with more than 1.39 billion people. This number follows China at 58%, with the U.S. at 15% and the European Union at 10%.
Even with the second-highest population, India seems to keep pollution down through limited use of large motor vehicles. In fact, small passenger vehicles, such as the rickshaw, are in most demand, possibly contributing to fewer emissions across the country.
"The Everyday Electric" is a pure electric platform, connected and aimed at multiple verticals and industries that serve people daily. It operates at 10 times the efficiency and 1/3 the true cost-to-own (TCO) of a majority of today's cars on the market. In 3 years, the company would like to see riders summon a ride from their mobile device, similar to ride-sharing apps like Uber or Lyft, as not only fun but also as one of the most efficient and most affordable ways to travel.
"We think that the marrying of readily available autonomous technology today has the opportunity to dramatically reduce the cost of operation of a shared vehicle network with vehicles already available," states Frohnmayer, "and when that's paired with a vehicle platform that's already incredibly affordable, we think this provides the opportunity for a big win in transportation — ultimately transforming parking lots into parks and reclaiming lame miles of asphalt."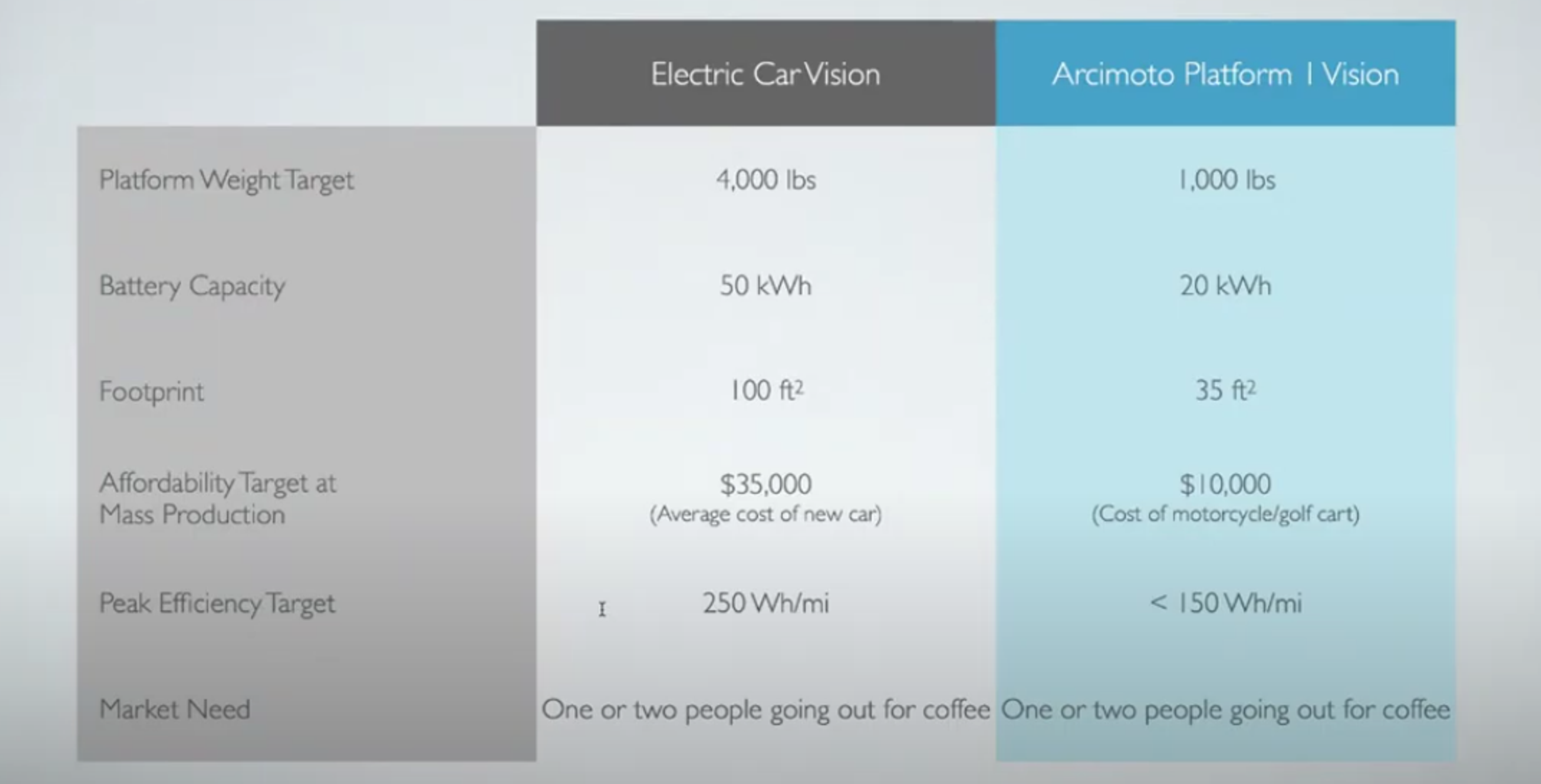 These vehicles are only available in Washington, Oregon, California and Florida. However, the company plans to expand into new territories later this year. Following the Biden administration's EV goals, the company has been busy planning targets for providing employment, introducing expansion efforts and eliminating emissions as it enters a new stage in next generation production.
Why Should You Invest? Arcimoto: 2021 and Beyond
The company recently acquired Tilting Motor Works and are in the midst of adding a tilt division, acknowledging that as the e-bike market experiences massive year-over-year (YoY) growth (at an estimated 14%), it wants to incorporate these technologies into a new line of ultralight EVs, which are core to Arcimoto's mission.
Arcimoto sees the acquisition of Tilting Motor Works as an opportunity to expand its multi-product strategy, targeting bicycle, scooter and motorcycle markets. It has already begun establishing vehicle sharing programs and vehicle renting centers in key travel and business destinations.
With a new facility, the company heads toward mass scalability. It will produce a few hundred new vehicles at this facility through 2021, although 2022 marks the real start of production at the new facility. Arcimoto has teamed up with automotive engineer, Sandy Munro, and his team to develop an even better vehicle by Q4 2022.
On this, Frohnmayer says, "We see another opportunity for a magnitude of improvement in terms of efficiency of cost, weight and materials with a whole new line of vehicles."
Last year, the company experienced supply chain shortages and pandemic-related glitches and plans to overcome any challenges in the aftermath to deliver a second platform by the end of 2021.
In addition to vehicles sold to customers directly, the company has developed a few hundred demo and rental vehicles during Q1 2021 but has the ultimate goal of developing a few thousand by the end of the year.
The company sees a future of ample opportunities, low bars and potential entry into new markets. With fire departments, delivery companies, and everyday drivers having already shown interest in adopting Arcimoto vehicles, there's no question that Arcimoto will become a household name in just a few years.
Learn more about Arcimoto's mission to change the world at https://www.arcimoto.com.
The preceding post was written and/or published as a collaboration between Benzinga's in-house sponsored content team and a financial partner of Benzinga. Although the piece is not and should not be construed as editorial content, the sponsored content team works to ensure that any and all information contained within is true and accurate to the best of their knowledge and research. This content is for informational purposes only and not intended to be investing advice.
The author of this article owns stock in one or more of the companies listed above.