Previously Published to Benzinga: The following post was written and/or published as a collaboration between Benzinga's in-house sponsored content team and a financial partner of Benzinga.
A midstream leader in industrial pure-play hemp operations, Generation Hemp (OTCQB: GENH) and its wholly-owned subsidiary, GENH Halcyon Acquisition LLC, officially announced the launch of its Rowdy Rooster Hemp animal bedding products, designed for small pets and other animals. 
With operations in Kentucky and Colorado, Generation Hemp uses its proprietary technology to dry, clean, process, and store hemp.
Rowdy Rooster's line of consumer goods is made from hemp hurd, a byproduct made during processing. It's all-natural, biodegradable, compostable and 100% sustainable — concepts reflective of Generation Hemp's green policy for environmentally mindful operations.
Why Hemp-Derived Materials Are Important
Image via Rowdy Rooster Hemp
In a sense, choosing to use hemp for animal bedding is like choosing Whole Foods over Aldi's for produce. And still, using hemp-based animal bedding is one of the best and easiest ways to maintain optimal animal health and hygiene.
Hemp is soft and resistant to pests, mold, and bacteria. It traps and controls harmful odors and corrosive ammonia found in urine and waste. Because of its low to dust-free properties, airborne particles can also be mitigated.
To produce a higher class of pet bedding, Rowdy Rooster Hemp mills and heat treats U.S.-grown hemp to make hurd and hurd powder for its animal bedding. This maximizes both its absorbency and resistance to bacteria.
Heat-treated hemp hurd powder has also been shown in a study to inhibit the growth of E. coli, which can cause major concern if animals are affected.
Hemp absorbs up to 450% of its own weight and, when used for bedding, is twice as absorbent as bedding made from wood shavings and lasts much longer.
A good night's rest is proven essential for optimal pet health. Like humans, animals are also susceptible to sleeping disorders, which lessen their quality of life and disrupt their physical and emotional health. Bugs, allergies, long-term diseases, bruising, and other skin conditions also play a significant role in an animal's health and how well they sleep.
Generation Hemp Is Giving Back
Generation Hemp is enthusiastic about the release of its animal bedding line. To celebrate Rowdy Rooster Hemp and all it can do for pets, the company is kicking off the launch with a monthly donation to the Karumel Farm Animal Rescue (karumelfarmanimalrescue.org), a local nonprofit rescue based in Kentucky.
As part of its plan to give back to the community, Rowdy Rooster introduces pet and animal owners to a healthier experience. The company will continue research and development efforts by working closely with this rescue to ensure all animals receive nothing but the best.
The Current State of Hemp-Derived Animal Bedding
Hemp animal bedding has traditionally been imported from outside the United States. It wasn't until the 2018 Farm Bill passed that industrial hemp was even allowed to be harvested in the U.S.
The import of hemp-derived bedding made consumer accessibility a major challenge. The logistics and efficiencies for retailers were not cost-effective, and e-commerce sources provided an inconsistent supply with no true brand trust or recognition.
Generation Hemp seeks to change that with the launch of the Rowdy Rooster Hemp animal bedding brand.
Excitement over hemp-based animal bedding is conveyed through several testimonials, retail reviews, and feedback on the web. Many of these consumers assert that hemp animal bedding lasts more than twice as long as other traditional bedding materials.
Rowdy Rooster Enters the Market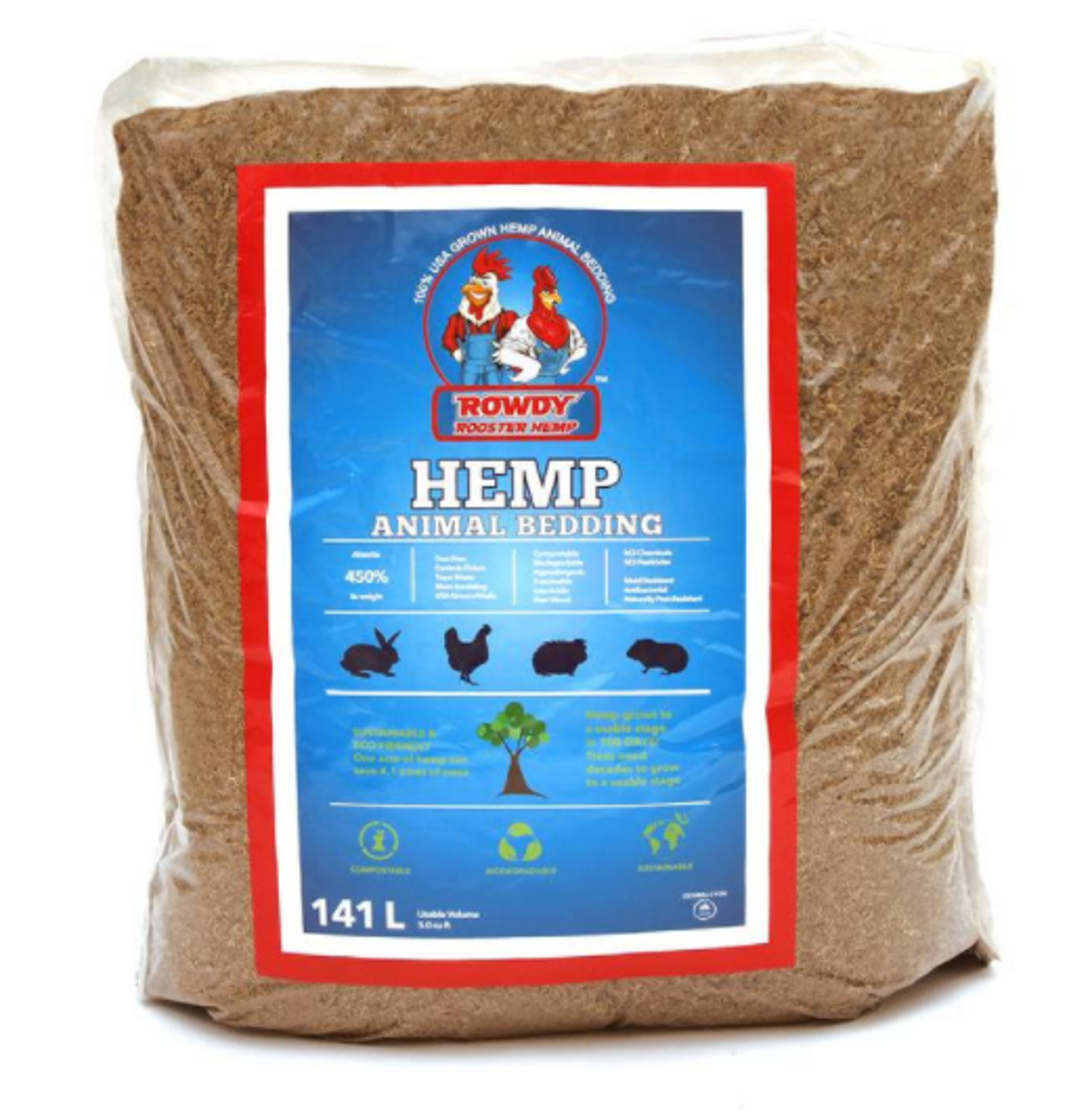 Image via Rowdy Rooster Hemp
Rowdy Rooster Hemp is currently available at RowdyRoosterHemp.com. As it continues to roll out additional e-commerce channels, the brand will begin pursuing distribution partners and retail at a much larger scale. By the time it finds its way into brick and mortar sales channels, the company hopes its products will already be a massive hit.
Given the limited market exposure of hemp hurd and fiber products, Rowdy Rooster hopes to help develop markets where there's little knowledge of just how beneficial hemp is for pets.
Hemp bedding generally sells at an average of $2 a pound. But some manufacturers have been known to charge more than $10.
Rowdy Rooster Hemp enters the market in 2 different sizes. Although sold by volume, initial pricing discounts average about $1.50 per pound and are likely to increase as the product gains in popularity. A 24-liter (5-pound) bag sells for $7.49 while a 141-liter (24-pound) bag sells for $35.99.
The Market in a Nutshell
According to the 2021-2022 APPA National Pet Owners Survey, 70% of U.S. households own a pet. Since the start of the pandemic, companies, such as Petco Health and Wellness Co. (NASDAQ: WOOF), Chewy Inc. (NASDAQ: CHWY), Walmart Inc. (NYSE: WMT), and even Amazon.com Inc. (NASDAQ: AMZN) have been reporting a sizeable increase in sales in the animal bedding and supplies arena. 
With 90 million pet owners in the U.S. alone, the pet-care industry in the U.S. reached $103.6 Billion in sales in 2020, and $232.54 billion globally. U.S. Experts expect that pet industry sales could reach $332.9 billion globally by 2026 with the 2nd-largest sector being animal bedding and litter.
Be sure to check out "Research Shows That Animals, too, Need a Good Night's Sleep" to learn how much sleep animals need for optimal health. For more about Rowdy Rooster and where it can be purchased, visit RowdyRoosterHemp.com.
The preceding post was written and/or published as a collaboration between Benzinga's in-house sponsored content team and a financial partner of Benzinga. Although the piece is not and should not be construed as editorial content, the sponsored content team works to ensure that any and all information contained within is true and accurate to the best of their knowledge and research. This content is for informational purposes only and not intended to be investing advice.